Meet Portland Oregon Labor Doula Maria. She is a Baby Nest senior birth doula and has been in the Portland birth world for the past 12 years! Grab some tea or coffee and learn more about what it's like to be a professional birth coach and labor support.
---
Q. What made you want to become a birth doula?
I wanted to become a doula after the birth of my own children, especially my 4th. The people supporting me believed in me and they trusted that I could do this. That was truly the biggest gift. I wanted to give this to someone else, especially when in a hospital setting we are not always surrounded by everyone we need, shifts come and go, and the only other anchor otherwise is a partner who is also new to it all in most cases.
Q. What do you love most about being a doula in Portland Oregon?
What I love most is the moment of awe and utter surprise when someone holds their baby for the very first time. Reminding them of their baby while in labor is extremely powerful. We forget this when we are struggling sometimes. A close second is bearing witness to the "wow, we made this little person!" moment! When new parents start discovering all the details that makes their baby their baby, it is a joy to watch. Seriously, the best art work.
Q. Describe your "doula style"?
Grandma style! I get asked a lot by doctors and nurses, "are you the grandma"? This is due to some grey hairs, and I am still trying to figure out wether this is a compliment or not.🤔  I am always happy to report, that I am not the grandma, but the birth doula. In all seriousness, I would say that my strength is my calmness and intuition. I think this translates to my doula style.
Prenatally, I offer a lot of information. My desire is to try to avoid the "I wish someone had told me…" experience that is so common. During the birth itself I draw from my connection with clients, from my trust in the process, which ever way it may go, from my experience, and ultimately from the knowledge that we only have so much control over something so extra-ordinary, yet ordinary as childbirth.
Q. Has working as a professional birth support changed you?
Doula work has definitely changed me, as has simply getting older. Both cumulate into a sense of peace and resilience. Moving through life-changing moments is what binds us all. We all can draw from openly communicating these feelings of awe, pain, beauty and fear.
No one is unaffected by life. This awareness just keeps deepening, partly by being there serving others, witnessing their moments and holding space. During birth the main thing we have to learn is to let go and let 'it' change us. Giving birth is a rite of passage. It is impossible to not be affected when being present for this as a birth support.
Q. Tell me about what your doula support includes?
My birth support includes being available to them from the moment I am hired till whenever they give birth, and even afterwards. I still have past clients contact me just in case I may have a referral or a file to share. I usually visit with each client 3 times to get to know them a little better, learn their hope and wishes and how I best fit in as their birth coach.
I teach them how to achieve this within the parameters of their chosen place of birth, and educate them about anything birth and postpartum related. I have a Mary Poppins Labor Bag of things I bring to birth to help during labor, from my clipboard (aka fan), to essential oils and a TENS unit to help with backaches.
Q. What would someone be surprised at that you do?
Well, believe it or not, some clients still don't believe that I mean it when I say "to call me in the middle of the night if they need me for labor!"
I think what surprises many people most though, is what it actually means to have a doula at their side once they are on the other side. Nothing I say and nothing they read, can truly convey what we do as doulas until they experience this kind of support. Birth coaches/doulas add a very unique ingredient to birth in most cases. It is an ingredient that adapts and moulds to a client's needs and that is what makes it so special.
Q. What's the most challenging thing about this job as a birth coach?
When I end up with two clients in early labor at the same time, this is the most stressful to me. I don't mind being on call; my fridge is usually stocked, my family taken care of, but the possibility of having to call in a backup and miss a birth, can be really stressful. With only 2-3 clients a month, this is rare, but possible.
In the rare cases of needing a backup, I am happy to work in an agency and call upon the other Baby Nest Birth Doulas whom I trust will take great care of my client!
Q.  What do you enjoy to do in your free time when you are not a Labor Doula?
In my free time, I enjoy singing, cross-fit, and camping!  I love to knit and have an etsy store called
LanamNere
 Treasures, which means knitting in Latin. I am the founder and administrator at
Eats On Feets
, an online network for community breastmilk sharing.
Q. What are some of the trainings you've taken as a professional birth support?
1996-1999 Live-in staff at shelter for abused women
1996-1999 CNA (certified nurse assistant)
1996-2006 Had babies!
2006 Started my journey as birth support within my church community
2009 Doula training at Birthingway College of Midwifery
2010-2012  Midwifery training at Ancient Art Midwifery Institute
2010 MotherCare Educators conference
2010-present Founder and administrator at Eats On Feets, an online network for community breastmilk sharing
2010 Author of Resource for Informed Milk Sharing
2017 Spinning Babies workshop
Continued online education on acupressure, aromatherapy and homeopathy
---
Baby Nest birth doulas offer FREE doula consults for parents-to-be in the Portland, Oregon and Vancouver, Washington area.
This is a time for you to meet together, ask questions and find the right fit doula for your family. 
Request a FREE CONSULT
 with Maria Armstrong if you'd like to learn more about her doula support and how she can serve you during birth. Learn more about pricing and what's included in our 
doula packages
.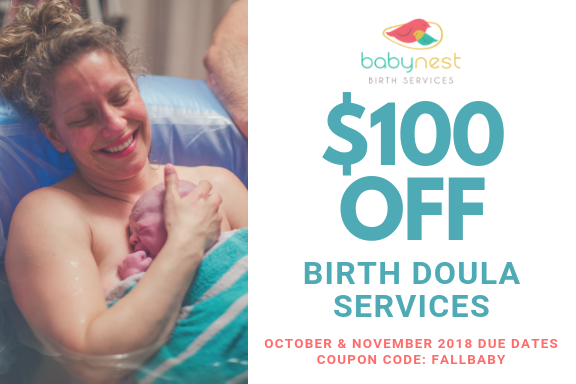 Want to get to know another Baby Nest doula? Grab another cup or and Have Coffee with Doula Cynthia! or Doula Inge-Lise  !