Virtual Birth Doula Support
Personalized, Compassionate Care You Can Count On.
Feeling anxious, isolated and unsupported? 
Worried about birthing in a hospital?
Afraid about getting pressured to have unnecessary interventions?
Desiring a more natural birth experience?
Wanting your partner to be a real help to you in labour?
Click Here to schedule a FREE Virtual Doula Consult
Give birth with confidence. Get support when and how you need it!
A virtual doula is your very own professional birth guide. Someone available and in your corner during every turn in your pregnancy, labour and postpartum. Adding a doula to your birth team can relieve anxiety and fear, creating an empowered birth experience. Our customized care meets the clients needs for emotional support, along with education to help them achieve the safest and healthiest birth possible. And all of this is done from a distance, keeping clients safe using virtual meetings and chats.
What is Virtual Doula Support Like? Hear from These New Parents:
"Our Baby Nest doula was essential to the gentle birth of our 2nd son. Unfortunately, because of COVID-19 hospital restrictions, our doula was limited to a virtual presence. When my water broke and labor began in the middle of the night, she was immediately available via FaceTime. At first, I was worried about the virtual experience, but it worked out wonderfully!
She listened closely to my contractions and provided the necessary support between the surges to give me confidence. At the hospital, my husband set up his iPad and our doula was present for the entire birth. I still felt her presence and she was able to offer guidance. 
After the birth, she continued to offer suggestions and advocate for our birth plan. Since the birth, our doula has checked in every day to see how we are doing, answer any questions, and continue to provide support. We are so happy with hiring a Baby Nest doula, and would highly recommend a virtual doula!
During the unprecedented times surrounding the COVID-19 crisis, pregnant mothers need the extra support to navigate the unknowns. Our virtual doula played a vital role in helping us stay calm, reassured, and prepared for our new healthy baby boy. I had a dream labor and delivery." - Sandy R. 
Benefits of Virtual Doula Support
*At this time, virtual doulas DO NOT go to the hospital to attend the family in labor due to restrictions. 
Here's how a doula can help you have your best birth:
Help you find just the right fit care provider that supports your birth vision.
Give unbiased support to help you towards the birth you are dreaming of.
Help baby land in the right position for a faster birth.
Create a customized birth "Wish List" (aka birth plan).
Learn relaxation techniques to reduce pain.
Educate you and your partner on all your choices with evidence based information.
Give play by play tips to your partner so they can be your birth HERO at every moment!
Pack your birth bag and learn comfort measures your partner can provide.
Reduce unnecessary interventions and shorten labour
Help you navigate ALL the medical choices.
Give you the encouragement you need to feel confident and supported at all turns.
Breastfeeding/Postpartum tips and tricks and support.
Click Here to schedule a FREE Virtual Doula Consult
Virtual Doula Support Includes:
A free Doula consult to find the right fit for you!

Unlimited texts, emails, phone call support during pregnancy and birth.

Monthly virtual chats to go over pregnancy concerns, discomforts and questions.

2 full prenatal appointments with your partner to prepare for your best birth and postpartum.

1 month supply of Pregnancy Power Tea.

38 weeks on, weekly virtual check-ins to bring comfort as birth nears.

24/7 on call support from 38 weeks and until baby is born.

Available during all stages of labour by phone, text and Zoom.

Customized care to meet your needs as your birth unfolds.

Access to lending library of videos and books.

After birth, weekly virtual check-ins for 4 weeks to support your transition to parenthood and any challenges that come your way.

A 15 minute virtual visit with our Certified Lactation Consultant when you get home.
$800
---
What Parents Are Saying About Our Virtual Doula Support
"Lucky for us, just as my wife was going into labor, Maria gave us assistance over the phone. She put us at ease with all her knowledge. Maria exudes an air of positivity which is so natural and it cuts through all the chaos and negativity commonly found in conventional hospitals.It's disturbing to think about what the whole labor experience would have been had Maria not been in the picture. It was great to have someone in my corner who knew all the answers and was so accessible. " - Kevin
"My husband and I can both attest to Maria's expertise and ability to provide wonderful virtual support during my pregnancy, labor, and postpartum. For this pregnancy I wanted someone to provide calming guidance to facilitate another unmedicated birth. I was especially anxious about the transition and pushing stages, which caused me the most difficulty during my first birth. After sharing my fears with Maria, she was able to help me process the past birth and illuminate me on why I experienced certain things during transition. Maria's instruction was invaluable in educating us with the stages of labor, childbirth, and postpartum. She also provided numerous resources that I found useful for preparing myself physically, mentally and spiritually."
-Sandy R.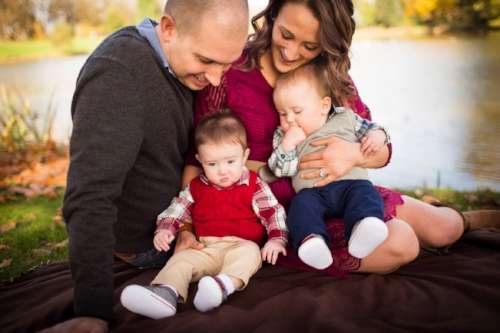 "Our Baby Nest postpartum doula was incredible. She's incredibly compassionate, responsible and helpful. My husband and I had twin boys two months. From the moment I had a consultation with her, my worries dissipated.