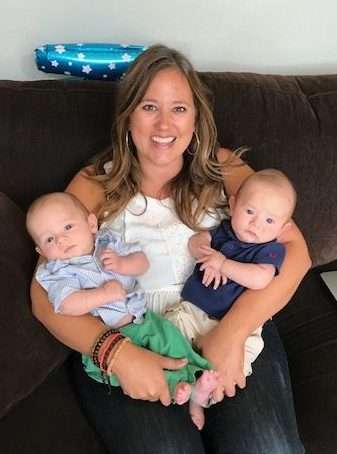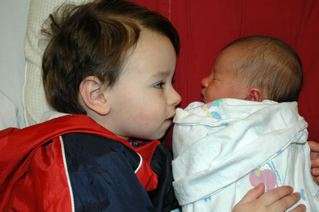 20 years ago, I was forever changed after giving birth to my son. I fell in love with my baby boy of course, but also fell in love with the birth experience itself. I was in awe of this mysterious, sacred, empowering event of childbirth.  It was the hardest thing I had ever done, but with the strong support from my birth team that believed in me, I found a deep strength, one that I did not know existed.
As I held my sweet son in the hospital bed that August night, I felt a deep yearning to be part of the birth world. I wanted to teach others about how birth could be and support their journey to be supported and empowering.
That feeling never left me and in 2003, I became a Certified Doula and Educator of The Bradley Method of Natural Childbirth.  I began teaching in my home with just a few couples a year and attending births as a doula when time would allow with my little ones. When my kids went to school full-time, the business kept growing and my passion grew right alongside.
I never set out to start a business. I set out to support and love women in their journey of becoming mothers. It truly grew organically.
I felt the loneliness of working alone, wanted to help more families and desired to be part of a team. I craved working with other strong and empathetic women, and dreamt of growing a doula team.
We officially became Baby Nest Birth Services in 2012. We have a full team of amazing birth and postpartum doulas! We have numerous Placenta Specialists on the team too.
We LOVE what we do! We are a group of doulas who believe that the way a woman gives birth, truly matters. Baby Nest is passionate about supporting all parents, with respect, a listening ear, education, and support through this transformational experience.
We are now a full spectrum birth agency; offering birth and postpartum doula support, certified placenta encapsulation, natural birth classes, postpartum prep classes in the Vancouver, WA and Portland, OR metro areas. Baby Nest also creates and sells a handcrafted body care line for pregnancy and birth comfort, sold online and in select Portland/Vancouver stores.
The way you feel when you give birth matters. We are honoured to support and care for families as they walk this journey of becoming a parent.
About Sherilee, Owner & Founder of Baby Nest
I have two crazy cool kids - a 20-year-old son and a 17-year-old daughter. They make me laugh, keep my life full of adventure, and are always teaching me.
I grew up on a recreational farm in Canada complete with horses, peacocks, and even buffalo...watching animals give birth from young is where I had my first realization of how natural the birth process could be. I'm grateful for this gift.
I adore the summer and hope to live somewhere tropical one day.