Whether you're a first-time mom or a mom of five, maternity clothes can still be a challenge.
I remember waiting for my baby bump to show enough, so I could start wearing all those adorable maternity clothes I dreamed of. You know, the magazine outfits that you get dress in and announce to the world … I am carrying a life inside and I am glowing! But wait … the clothes didn't exist. Rather, I found maternity clothes that were saggy, poor fitting, uncomfortable, unflattering and old fashioned.
The great news is this was 14 years ago, and wow have the options improved! I see all our pregnant clients wearing adorable maternity outfits (and comfy at that)! When you find that maternity outfit that you feel amazing in and want to live in everyday, you will glow without breaking the bank.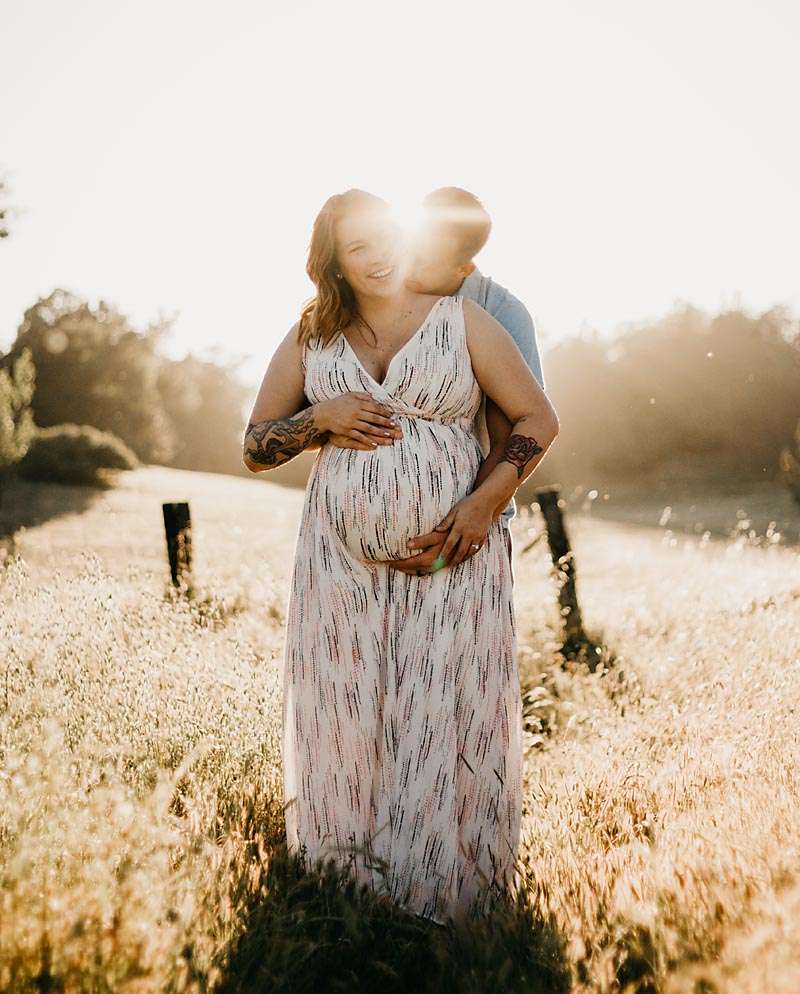 "To be pregnant is to be vitally alive, thoroughly woman, and undoubtedly inhabited. Soul and spirit are stretched – along with body – making pregnancy a time of transition, growth, and profound beginnings." – Anne Christian Buchanan
But the reality remains: you want to be cute, confident, and definitely not frumpy when pregnant. You're so in luck! Today's fashion world brings to many treasures to the pregnant woman. Maternity clothes have got it going on! You can be stylish at work, adorable at the coffee shop with your girlfriends, cozy at home folding laundry, or sexy on a date!
No matter what your lifestyle, here's a list of 4 staples every pregnant woman should have:
---
Let's go Shopping in the Portland Area!

Our Favourite Local Portland and Vancouver Maternity Clothes Stores
The best place to suss out adorable maternity clothes in the Portland metro area? You can actually shop your own closet for a few months. Most women don't need maternity clothes till about 4-5 months along. During this time, think about a few staples you'll need in the months ahead that can be dressed up or dressed down. With that foundation, it will be easier to add a few more cute things here and there. Head out to the local PDX retail stores!
Your friends and family. If your friends are in their pregnancy years, there's a good change you can borrow from their stash. Pregnant women are a great tribe, and love to share and empower each other.
Spanky's. This is a great local resale boutique. They have a few locations around the area but we love the Vancouver one on Mill Plain.
Hoot-n-Annie Children's New & Resale Boutique. If your down in Portland, this maternity store is a favorite. We love that that sell new and gently used maternity clothes as well as things to tuck away in the nursery for when baby arrives.
Target. (of course!) Target has a great maternity section filled with some affordable options that help keep you on trend and feeling great about yourself. And hello, you can grab a Frappuccino and a new lipstick while you shop.
A Pea in the Pod. This is a national brand but has their product in quite a few local stores. You should be able to find their things in the Motherhood Maternity Outlet in Troutdale, Macy's at Washington Square, Destination Maternity at Bridgeport Village, and Motherhood Maternity Outlet in Woodburn.
Online Resources for Maternity Shopping in your Jammies!
Today we live in the age of online shopping, and this goes for maternity clothes too! Retail stores sometimes can be hard to find locally and have limited sizes and inventory. So online shopping is a lifesaver for dressing up the pregnant belly! Oh, and the best part – you get to shop in your jammies! Comfort and style, here we come!
Our Favourite Online Maternity Stores – full of comfort and style!
Stitch Fix. This service costs a bit, but they're really good at finding unique things that match your style. And they understand the different needs of each trimester. You may need to treat yourself to this personalized fashion styler!
Gap Maternity. Did you even know that Gap has a killer selection of cute comfortable maternity clothes online? You can shop for work clothes, special occasions or by what trimester you're in.
H&M. If you want super stylish while still being comfy and affordable, this is your best open, specifically at Lloyd Center and Pioneer Square stores.
Swap.com. If you're like me, you like cute stuff but probably don't have a huge budget. That's where swap.com can help out. The only rub is that their pictures aren't adorable. (Yes, they're functional but they don't have the pizazz of a regular retailer.)
Asos. This online shop has some beautiful pieces, and better yet they have free delivery if you spend over $40. (Otherwise it's a flat $4 shipping charge.) And they offer free returns on anything. It's almost like Zappos for your baby bump.
Remember dear pregnant one,
No matter what maternity clothes you choose to wear during your pregnancy, remember that you're beautiful, strong, and on your way to becoming a wonderful mom!
The most important thing to remember during this time is that your body is beautiful. Amazing. Stunning. A miracle is growing inside you and your body is growing to support it in so many unique and incredible ways. Embrace it. Some days you'll feel big. Some days nothing will feel comfortable. That's normal. Don't be down on yourself.