There is nothing like the tradition of an outing to a Pumpkin Patch and finding the perfect Halloween costume for your adorable little ones! This time of year allows kids AND parents to be playful, imaginative, and active outside. What perfect memories are made of! Looking for just the right pumpkin patch for your family in Vancouver, Washington?
This area is quite honestly perfect for pumpkin hunting. With its postcard-like colours, cooler air, ample apple and pumpkin farms – we live in an amazing place to create these family pumpkin patch memories.
Wondering where the best Pumpkin Patches are in the Vancouver, Wa area? Want to head out to the patch and get that quintessential photo op? Need the best selection of Halloween costumes for your entire family – we will guide you through!
The Best Pumpkin Patches in Vancouver, Wa
Bi-Zi Pumpkin Patch & Farm
Bi-Zi Farms is by far one of Vancouver, Wa's most beloved Pumpkin Patches. It is located in town and a common school field trip destination. Admission includes a pumpkin patch, free hot drink, corn maze, wagon rides, pumpkin launchers, animal farm, bale maze and pyramid, pedal tractor driving, and even a calf roping station! It is sure to be a day of busy fun at Bi-Zi Farms!
Purchase tickets online. General admission is $15.95 For ages 3 and up admission is $13.95. For those 62+, or with valid military, it's $13.95 to get in. Children 2 years and younger are free. 9504 N.E. 119th Street, Vancouver Wa
Velvet Acres Garden
Commonly known as Vancouver Pumpkin Patch, this destination is super family-friendly with little ones. You can find your perfect pumpkin in the patch along with the fun of a petting zoo, corn maze, hay pyramid, hay tunnel, covered hayrides (#pnw), face painting, and a StageCoach Storytime. The farm atmosphere allows you to take a stroll out to the u-pick portion of the farm to pick veggies in season or buy some already freshly picked.
$10 Admission per person/$12 per person Weekends includes entry to the Vancouver Pumpkin Patch, Hayride on weekends and Wednesday and Friday afternoons, 1 pumpkin from the patch, entry to the petting zoo & 1 entry to the corn maze. *Age 2 & under are FREE (Entrance Only) 18905 NE 83rd St, Vancouver, WA 98682
If you are local to The Couve, you know where Vancouver and Camas meet is a common debate. This local pumpkin patch in Camas, Washington is just a quick jaunt from Vancouver and very worthwhile. It's a nice low-key, low-crowd experience that gives you all the pumpkin patch feels. Your adventure ticket covers the corn maze, train ride, and one pumpkin ANY SIZE! Have fun carving those ones!
Admission $13 per person, includes pumpkin, 2 and under Free – no pumpkin, Seniors 55+ $11http://waltonsfarms.com/, Dogs allowed on leash. 1617 N.E. 267th Ave, Camas
Want to Head Out of Town? Visit a Portland Area Pumpkin Patch
Frog Pond Farm
Frog Pond Farm is one happening place where even parents will have fun while they hunt for their perfect pumpkin. There are tons of activities for kids like tennis ball slingshots, a tube slide, hamster rolls, duck races, and backhoe diggers. Parents are not left out at this Wilsonville Pumpkin Patch…fun yard games to play include corn hole and life-sized Connect Four! On the weekends they offer a "Spooky Farm Walk" if you dare. 2995 SW Advance Rd, Wilsonville, OR 97070
Topaz Farm
The famous Sauvie Island is host to some of the most popular pumpkin patches in our Portland, Vancouver area and Topaz Farm is one of our favourites. The short drive will make you feel like you have escaped the big city but entered a farm with so much heart and intention. Topaz Farm's pumpkin patch offers all the things. A Corn Maze, Hay Rides, Mini-Goats, U-Cut Flowers, Mini-Donkeys, Pumpkin Spice Cider on Tap, Caramel Apples, Tire Swing, Fresh No-Spray Greens, Weekend Grill food trucks, Corn Hole, Picnic Boxes, Hot Cider.
They are open daily except for Mondays. The open field allows for parents to enjoy a wine or beer while children run in the free space and fresh air. Leave with your produce for the week as they sell a large number of grocery items, all local and fresh. 17100 NW Sauvie Island Rd Portland, OR 97231
Best Halloween Costume Stores in Vancouver ..that won't break the bank!
Are you dreaming of seeing your baby as a Peapod? Adorable Pirate? Maybe as a fierce Lioness? The options are endless for baby and kid Halloween costumes. And between you and me, the best thing about Halloween at this stage is…YOU GET TO PICK OUT THE COSTUME!
OR maybe if you are like me, costumes (plural!). There is nothing cuter than babies and kids in Halloween costumes. I mean seriously, have you seen the rolly-polly baby dressed like a grandma?!?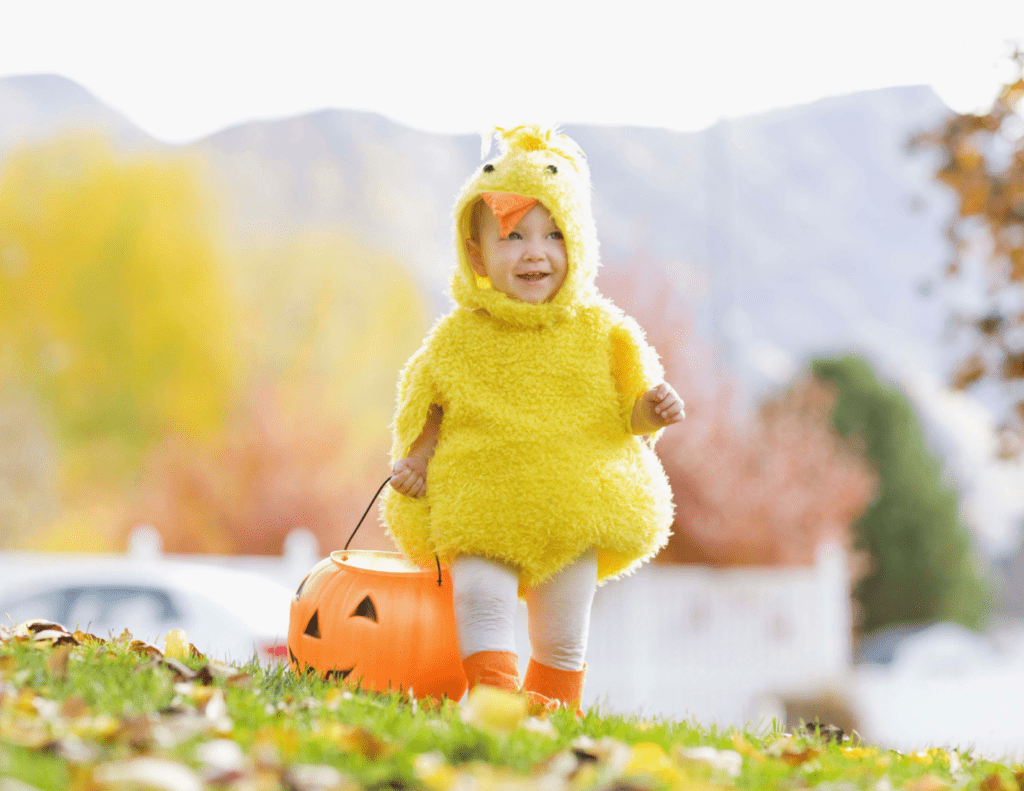 If you want to have some costume fun and not break the bank, we have the best places in Vancouver, WA to grab a costume or two…(or three) on the cheap! Kiddos grow so fast and will not wear it all day, so no need to pay full price at retail stores! Here are our favourite places in Vancouver, Wa to grab some festive Halloween costumes.
Once Upon a Child
For any season this Vancouver small business consignment store is fantastic, but for Halloween – it's a must! This resale store sells gently used Halloween costumes for babies, toddlers, and school-aged children, and the selections are way better than at any retail store. Never mind, the pricing! Earn points every time you shop for or sell gently used kid's items when you sign up for their rewards program. Cool thing is, you can sell the costume back to them when you are done! 11505 NE Fourth Plain Blvd D3, Vancouver, WA 98662
Denim and Frills
This family-owned business is a consignment boutique that offers a variety of clothing and products in sizes preemie to junior and maternity. They are extremely seasonal, so when it's time for Halloween parties, be sure to drop in to find just the right new look for your little pumpkin. No matter what your budget is you will always find something to celebrate Halloween in! 628 NE 81st Sreet, Suite A, Vancouver, Washington 98665
Center Stage Clothiers
Do you parents want to get in the Halloween spirit too? Tap into that inner child and become that disco queen, Star Trek character, or Dorothy from Wizard of Oz! Children shouldn't have all the fun, and really they LOVE when their parents get into the action too. But no need to buy a full costume for a few hours.
This local costume rental shop is filled with the most beautiful and detailed costumes that will inspire you. Along with the endless options, and great customer service, this store holds a heart and an amazing story. Not only will you be the talk of the party, but you will have supported a local Vancouver business that brings joy and a little bit more lightheartedness to the world. 1400 Main St, Vancouver, WA 98660
Traditions of visits to the Pumpkin Patch and Halloween costumes truly help us connect, play and make memories that our kids will remember for a lifetime. Happy pumpkin hunting and Halloween costume shopping in our local Vancouver, WA area!
And if you find yourself pregnant, growing your own lil' pumpkin…and in need of any birth classes, doula support or placenta encapsulation...we would love to support you!