Baby Nest Birth Services is excited for you to get to know one of our superwoman doulas, Inge-Lise Williams, CD (DONA)
What made you want to become a birth doula?
Growing up I was always fascinated with pregnancy and babies!  When I was 9, my younger brother was born and I remember watching my mothers belly swell and the excitement I felt when she went into labor. That feeling has always stuck with me.
In 2005, my husband and I welcomed our own daughter at Peacehealth Birth Center. Never had I felt as powerful and capable as I did in that moment.  I delivered a posterior baby who weighed over 9 lbs naturally and I felt on top of the world! A few years later, I was able to attend a friends birth as a support person. It was the most beautiful, amazing and unforgettable experience I had ever had!  I knew I wanted to attend more births and help women in the journey of motherhood.
What do you love most about being a doula?
I love how every birth is unique! No two births are the same. To be witness to the total joy after baby comes out, and watching my client realize what she just accomplished, is truly incredible! Some clients seem to be in shock or a daze about what just happened! But usually they feel like they just accomplished the most incredible feat ever! You can see the pride on their face and the look of amazement as they realize they are now a mother. Amazing every time!
Describe your doula "style"?
I would say my style in being a birth coach is easy going and calm. I try to go with the flow and adjust how much I get involved based on how mom and partner are doing and the needs that present.
I believe the body knows just what to do and is meant to give birth without all the unnecessary interventions. I try to help mom to see this as well, to really believe in her ability to give birth and to trust her body. And if the time comes that she needs something more, such as an epidural, I help her to feel supported in that decision and not to feel like she failed or somehow her body didn't work right.
How do you include the partner in the birth?
I try really hard to invite them to do what I am doing or suggest they come closer so as to not feel left out.  There are times when I can tell that partner doesn't want to be that close or involved, sometimes they just want to sit back and watch, which means my role as birth support is even more important. If they are feeling faint or nervous I encourage them so step out and get some air, maybe take a break and grab something to eat. I reassure them that it is okay and that I am there for both the client and partner.  The partner really is such a valuable tool! They know the client better then anyone else, so I can use that information to support the mom in ways the partners knows work the best.
How has doula work changed you?
For one, I notice pregnant women everywhere! It's also made me appreciate my own pregnancies and experiences.
After having my three children before becoming a doula, I looked birth very differently. I had very easy pregnancies with no complications. I went past my due date with all three but other then that, everything went how I had hoped. I was very for natural labor and against epidurals completely.
But now having seen so many births I realize that epidurals can be a helpful tool in certain situations. I still believe that a natural birth is often the best route but I know now it is not for everyone and there are circumstances that come up that make it not always an option like a difficult induction.
What would someone be surprised that you do?
I think the amount of time I spend with families might surprise some. If it's a really long labor or induction and I am there 30+ hours straight.
What's your one go-to item in your doula bag?
One thing that I seem to use at every birth from my doula bag, are my massage tools. After hours and hours using my hands, they can get really sore!
What is included in your doula support?
As a birth doula I do whatever it takes for mom and partner to feel supported! Sometimes that means holding her hair back while she vomits or maybe rubbing her feet and keeping her calm while she is waiting to go back to the OR for her cesarean. My role and support changes as needed and I'm there from the moment the clients needs me, till the baby is born.
In our first prenatal appointment, we go over what the client can do to prepare her body for the hard work ahead of her. Each client gets Baby Nest Labour Ready Tea to help strengthen her uterus and help it to work more efficiently. At our second prenatal we go over what her ideal birth looks like. We discuss her desires and how best I can support her and her partner in labor.  All Baby Nest doula clients receive $50 off placenta encapsulation if they choose to add that to their plans for postpartum as well.  I will also visit them for a postpartum meeting to check in on how things are going, celebrate the baby's arrival and educate on breastfeeding and baby care if needed.
Who do you think are the benefits of having a professional labor support?
I think everyone involved benefits from a labor doula! For the mom, it is an extra set of hands and a person devoted exclusively to taking care of her every need. For the partner, I think it takes some of the pressure and responsibility off of them as the sole supporter with all the pressure on them. For the provider and nurses it helps them knowing that their patient is always being tended too and looked after.
What's your favorite doula snack during birth?
Applesauce pouches and protein bars! Quick and easy to eat on the walk to the bathroom and doesn't smell strong or stick in my teeth!
You have been a volunteer doula at OHSU. Tell us more about that.
When I first started as a doula, I had the opportunity to join PDX Doulas which is a volunteer doula program at OHSU. It was been a great learning experience and has given me many opportunities that I would not have had otherwise. It is different work then my work with my private clients at Baby Nest Birth Services, because I do not have chance to meet the mothers ahead of time. I was called to the hospital when they are already in active labor and go in not knowing much about the pregnancy and/or labor. But it is often with ones who do not have a lot of support or might not be able to afford a doula, so it felt good to give back.
What's the most challenging thing about this career?
Being on call all the time. Our family has always been a spur of the moment kind so to not be able to just jump in the car and go to the beach or the mountains at times can be a bummer. I've just learned to block time out in the future. Less spontaneous but still fun and so worth it!
What advice do you give for hiring a birth doula?
It starts from the very first initial meeting or consultation, where we offer a free consultation to see if the doula is a good match for the family. One of the most important parts to hiring a doula is choosing someone you are comfortable around. Even if a doula has great references and years of experience, if the client doesn't feel completely at ease around that person, the relationship will not work. A connection between the couple and the doula is very important.
Anything else you'd like to tell the world?
I absolutely love what I do as a professional labor support! After every birth I come home smiling! Sometimes exhausted but always I have a sense of pride, joy, excitement and contentment. It's similar to how I felt after giving birth myself. The female body just amazes me and I get to see it bring life into this world all the time and get to make a career out of it!!
What are your certifications?
Certified Birth Doula, DONA International
Acupressure Workshop for Birth Professionals, ACNM
Collaborative Practice Training, OHSU
Massage for Labor & Birth
Volunteer doula with PDX Doulas at OHSU
What hospitals do you serve at?
I serve as a birth support in the Vancouver, WA and Portland, Oregon areas.  I attend home births, birth centers and all hospitals in the Portland Metro area.  Portland & Vancouver Doulas for Legacy Salmon Creek, Legacy Emmanuel, Peace Health Vancouver, Sunnyside Clackamas, Adventist Medical Center, Kaiser Portland, Vancouver Clinic, Pacific Midwifery, OHSU, Good Samaritan, Providence Willamette Falls, Providence, St. Vincents, Providence Portland Medical Center, Canyon Medical Center, Alma Midwifery, Adventist Health, Andaluz Birth Center, Longview, all home births & more.
---
Baby Nest birth doulas offer FREE doula consults for parents-to-be in the Portland, Oregon and Vancouver, Washington area.
This is a time for you to meet together, ask questions and find the right fit doula for your family. 
Request a FREE CONSULT
 with Maria Armstrong if you'd like to learn more about her doula support and how she can serve you during birth. Learn more about pricing and what's included in our 
doula packages
.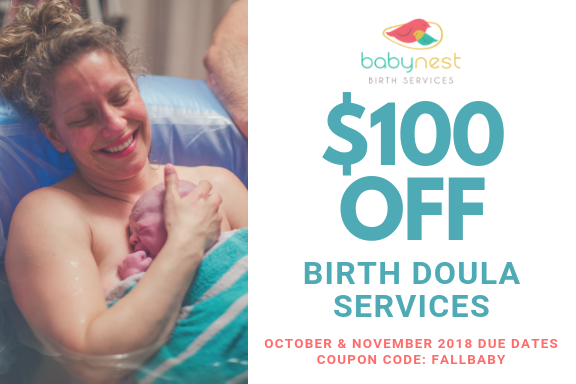 Want to get to know another Baby Nest doula? Grab another cup or and Have Coffee with Doula Cynthia! or Doula Maria!
---